RoHS
Announcement

Leadtrend certificates that our PB-Freed devices are compliant with the Restriction of the Use of Certain Hazardous Substances (RoHS). The restricted substance is controlled according to the following standard whether for its materials or production.

Being a fabless IC company, our products are fabricated and assembled by subcontract manufacturers to our strict quality, reliability, environmental, and safety requirements. These subcontract manufacturers are all certificated for their environmental protection or quality control, moreover, certificated as a "Sony Green Partner". Through our active involvement, we do best to assure that our products do not have impurities that exceed the maximum allowed by RoHS.

| | |
| --- | --- |
| Name of Restricted Material | Content measured (PPM) |
| Pb | <1000 |
| Cd | <100 |
| Hg | <1000 |
| Cr 6+ | <1000 |
| PBBs | <1000 |
| PBDEs | <1000 |

This document also certifies that all material declarations provided by Leadtrend are accurate to the best of our knowledge.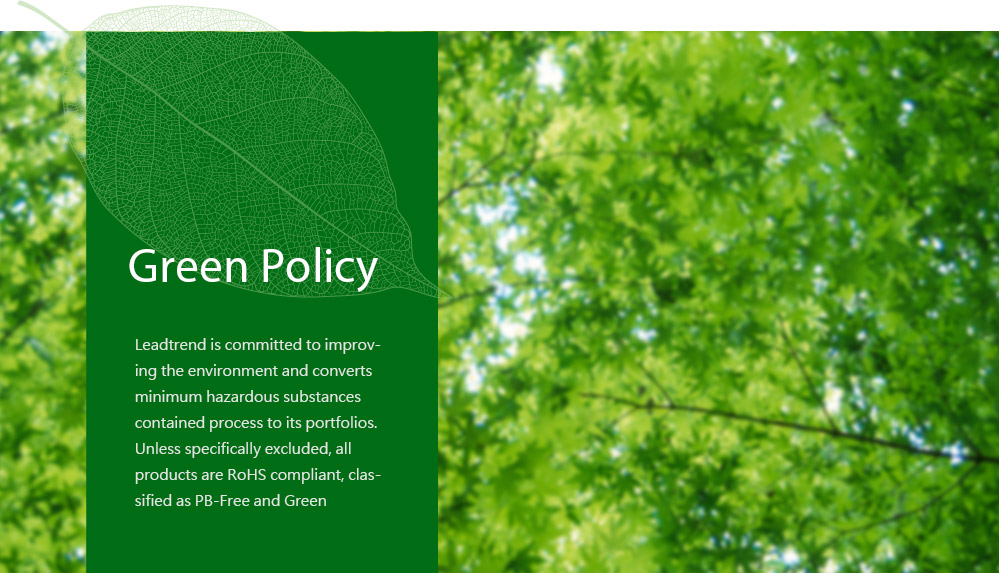 The classification for Pb-Free and Green is subject to RoHS directives (2002/95/EC) and JIG-101 standard , see more details in the table
The product identifier is described as table
More detailed information, please refer to the ordering information stated in the datasheets.
Table 1 The Classification for Pb-Free and Green Process
Process Banned Substance Level
Pb-Free
Green
Cadmium (Cd) <100ppm

V

V

Lead (Pb) <1000ppm;

V

V

Mercury (Hg) <1000ppm

V

V

Hexavalent Chromium (Cr6+) <1000ppm

V

V

Poly-brominated Biphenyls (PBB) <1000ppm

V

V

Poly-brominated Biphenyls Ethers (PBDEs) <1000ppm

V

V

Halogen contained:

Chlorine (CI) <1000ppm

Bromine (Br) <1000ppm

X

V

Antimony (Sb) <1000ppm

X

V
Note:
V : meet the requirement at the banned substance level
X : does not meet the requirement at the banned substance level

The above level for the banned substance is required by RoHS Directive (2002/95/EC) and Joint Industry Guide (JIG-101) standard.
In anticipating with the increasing demand on the environmental friendly product, Leadtrend does its best to provide more energy saving products to meet it. If more information is needed, please contact us at sales@leadtrend.com.tw